"Cosmic Art" is the term for a genre of modern artistic expression that strives to show the wonders of the Universe.
We are using art as a tool to educate an audience about the beauty of the dark sky and protect them from light pollution art performances, digital art, and even fashion or a costume.
Cosmic Tribe is the only Pakistani organization working on Space & Astronomical Art, and also an associate member organization of IAAA – International Association of Astronomical Artists
We used art as a tool to advocate and educate people about light pollution. Wearing this costume in public spaces. In that costume, there is smartphone integration. My smartphone is equipped with one application that converts my sound into light. When I speak, the light on my mobile phone screen blinks, a part of my costume. 
For more details about this costume please check out interview coverage by Scientia Magazine
The collaborative project focused on exploring the connection between effects of lights. sustainable fashion, digital design, and surveillance.
For more details about this costume please check out coverage by Scientia Magazine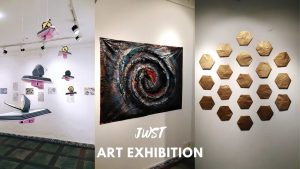 Join us in celebrating NASA's soon-to-launch Webb Telescope, the next great space observatory, which will look farther into space than ever before. We'll have hands-on activities, webinar, and art activities for ages 10 & above. We welcome inspiring artists to join this workshop and get a chance to exhibit their art on James Web Space Telescope Launch Day 2021 & get a chance to display your artwork at FULL CIRCLE GALLERY